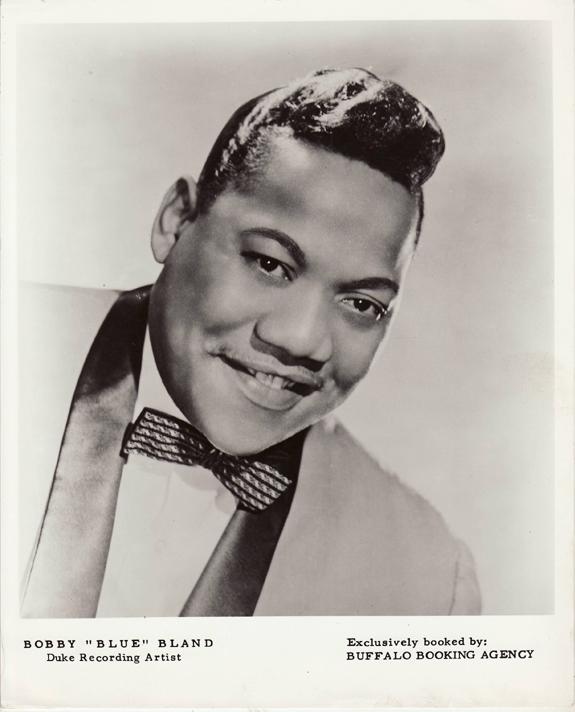 Robert Calvin Brooks
aka
Bobby "Blue" Bland
(27 janvier 1930 – 23 juin 2013)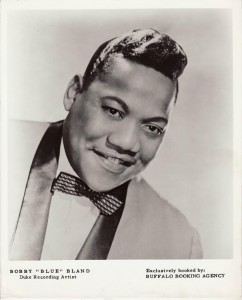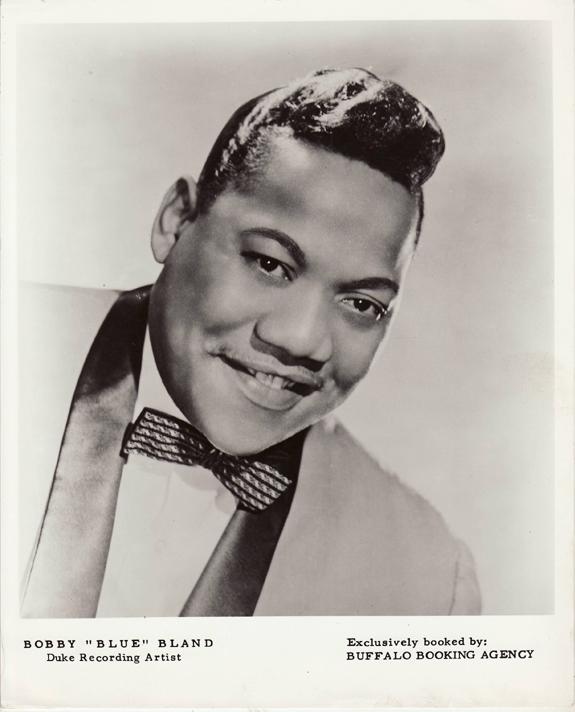 Bobby "Blue" Bland was born Robert Calvin Bland on January 27, 1930, in Rosemark, Tennessee, a small town near Memphis. When he was 17, he and his mother moved to Memphis. He worked at a garage during the week and sang spirituals on weekends. At various times, he served as a chauffeur for B.B. King and Roscoe Gordon and a valet for Junior Parker. He soon began hanging out on Beale Street, and he eventually became part of a loose-knit group called the Beale Streeters, which included Billy Duncan, Johnny Ace, B.B. King, Roscoe Gordon, Earl Forrest and Junior Parker.
After making some recordings for Duke Records, Bland was drafted into the Army in 1953. He returned to Memphis in 1955, only to find that everything had changed. Rock and roll was breaking down the old barriers between "race" and "pop," and Duke Records had been sold to Don Robey.
Bland spent the latter half of the Fifties maturing into a masterful singer and assured entertainer. His hallmark was his supple, confidential soul-blues delivery. As a singer, Bland projected a grainy, down-to-earth quality, punctuated with guttural growls and snorts that would come to be known as the "chicken-bone sound." Yet his voice was simultaneously smooth as velvet, allowing Bland to bring audiences under his hypnotic spell as he walked a fine line between passionate expression and exquisite self-control.
Working with Joe Scott – a band leader and producer – Bobby "Blue" Bland recorded straight blues such as 1957's "Farther On Up the Road," which reached Number Five on the R&B charts, and the following year's "Little Boy Blue," a record of surprising intensity and power.
That record marked the end of Bland's hard-blues period, and he subsequently evolved into more of an intimate soul-blues stylist. "I'll Take Care of You," which reached Number Two on the R&B charts in 1960, marked the beginning of the Bobby Bland sound. It was also the first of a dozen straight Top 12 R&B hits, including "Lead Me On," "I Pity the Fool," "Stormy Monday Blues," "That's the Way Love Is" and "Turn on Your Love Light." The latter song became an R&B standard.
Bland's painstakingly crafted records featured his deliberate, resolute vocals set over a backdrop of dazzling horn fanfares, supple rhythm parts and Wayne Bennett's T-Bone Walker–style guitar. The quality of the records was stunning, and Bland's vocals were the centerpiece. He projected warmth and intimacy, but he could also growl and howl. As a measure of his considerable appeal to black audiences, Bland placed an amazing 51 singles on the R&B Top 40. However, he crossed over into the pop-oriented Top 40 singles chart only four times and never got higher than Number 20 (with "Ain't Nothing You Can Do," in 1964).
In 1971, Robey sold Duke to ABC-Dunhill. The label paired Bland with producer Steve Barri, who moved Bland back to a more bluesy vocal style and provided songs written by the likes of Leon Russell and Gerry Goffin. His California Album and Dreamer as well as a series of duets with B.B. King introduced Bland to white audiences and were among the most popular albums of his career. Then, in the early Eighties, Bland signed with Malaco Records, and the label reinforced his Southern soul connections.
Bobby Bland was inducted into the Blues Hall of Fame in 1981 and the Rock and Roll Hall of Fame in 1992. In 1997, he received a Grammy Lifetime Achievement Award.
(taken on "Rock'n'Roll Hall Of Fame")

TENTATIVE DE TRADUCTION : Bobby "Blue" Bland est né Robert Calvin Bland le 27 janvier 1930 à Rosemark, petite ville proche de Memphis dans le Tennessee. Sa mére déménage sur Memphis alors qu'il a dix ans. Il travaille dans un garage pendant la semaine et chante des spirituals les week-ends. On le voit aussi comme chauffeur de B.B. King et Roscoe Gordon et comme serviteur de Junior Parker. Dès lors, il traîne sur Beale Street et a rejoint le groupe des Beale Streeters, composé de Billy Duncan, de Johnny Ace, de B. B. King, de Roscoe Gordon, de Earl Forrest et de Junior Parker.
Après avoir enregistré pour Duke Records, Bland est enrôlé dans l'armée en 1953. De retour à Memphis en 1955, il constate que tout a changé. Le rock'n'roll abolissait les anciennes barrières entre race et pop. De plus Duke Records avait été vendu à Don Robey. Bland passe alors la seconde moitié des années 50 à devenir un chanteur de premier plan et un artiste confirmé. Sa marque de fabrique était sa prestation souple et confidentielle de soul-blues. En tant que chanteur, Bland a projeté une qualité granuleuse bien que sa voix ait une tonalité douce et veloutée, permettant à Bland de mettre le public sous son charme hypnotique alors qu'il marchait entre une expression passionnée et une self control totalement maîtrisé.
En collaborant avec Joe Scott – un chef de groupe et producteur -, Bland a enregistré des blues tels que Further On Up the Road"(1957), qui a atteint le cinquième rang des charts R & B, et Little Boy Blue l'année suivante, une intensité étonnante. et le pouvoir. Ce disque marque la fin de la période hard-blues de Bland. Il se transforme ensuite en styliste intime soul-blues. "I'y prendrai soin de vous", qui a atteint le numéro deux des charts R & B en 1960, a marqué le début du son Bobby Bland. C'était également le premier d'une douzaine de succès consécutifs dans le top 12 R & B, dont Lead Me On, I Pity the Fool, Stormy Monday Blues, Turn on Your Love Light et Turn on Your Love Light. Cette dernière chanson est devenue un standard de R & B.
Les enregistrements minutieusement réalisés de Bland mettaient en scène ses voix résolues et résolues sur fond de fanfares de cor éclatantes, de parties de rythme souples et de guitare de style T-Bone Walker de Wayne Bennett. La qualité des disques était superbe, et la voix de Bland était la pièce maîtresse. Il projetait chaleur et intimité, mais il pouvait aussi grogner et hurler. Comme mesure de son attrait considérable auprès du public noir, Bland a placé 51 superbes singles dans le R & B Top 40. Cependant, il n'est passé que quatre fois dans le palmarès du top 40 axé sur la pop et n'a jamais dépassé le numéro 20 (avec Ce n'est rien que vous puissiez faire », en 1964).
En 1971, Robey a vendu Duke à ABC-Dunhill. Le label a associé Bland au producteur Steve Barri, qui l'a réorienté vers un style vocal plus blues et a fourni des chansons écrites par des artistes comme Leon Russell et Gerry Goffin. Son album et son rêveur californiens, ainsi qu'une série de duos avec B.B. King ont présenté Bland au public blanc et figuraient parmi les albums les plus populaires de sa carrière. Puis, au début des années 80, Bland signe avec Malaco Records et le label renforce ses liens avec Southern Soul.
Bobby Bland a été intronisé au Blues Hall of Fame en 1981 et au Rock and Roll Hall of Fame en 1992. En 1997, il a reçu un Grammy Lifetime Achievement Award.