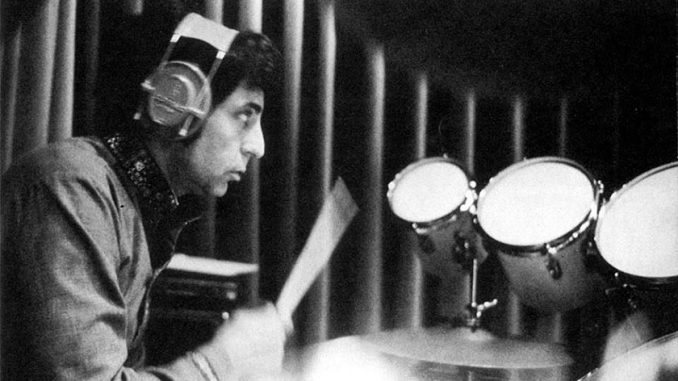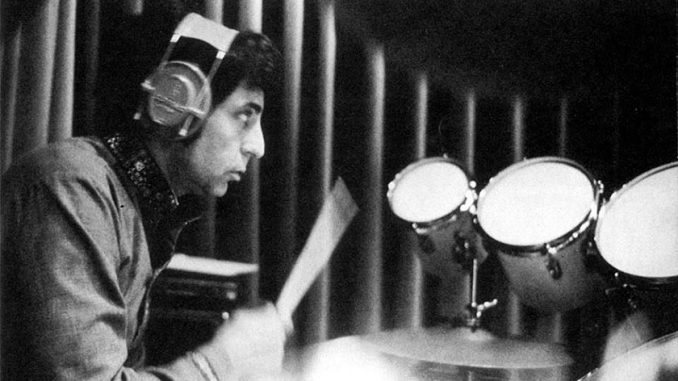 HaL BLaiNe
(5 février 1929 – 11 mars 2019)
Non seulement un percussionniste au talent immense, mais aussi probablement l'une des personnalités les plus hautes en couleurs de la Wrecking Crew de L.A. Sa batterie est présente sur 40 titres numéro un, 150 hits au Top Ten et, selon ses propres chiffres, sur plus de 35 000 morceaux enregistrés. Il était un élément incontournable des studios musicaux hollywoodiens tout au long des années 1960-1970. On ne peut pas parler des studios Gold Star sans inclure le grand Hal Blaine. (*)
Quelques titres devenus n°1 où sa frappe se fait entendre : Good Vibrations + Help Me Ronda (Beach Boys), Be My Baby (Ronettes), He's A Rebel (Crystals), Strangers In The Night (Frank Sinatra), Can't Help Fallin In Love (Elvis Presley), Mr. Tambourine Man (Byrds), Ringo (Lorne Green), Eve Of Destruction (Barry Mc Guire), Mrs Robinson (Simon & Garfunkel), etc…..
Il a aussi accompagné : Glen Campbell, Kenny Rogers, King Cole, Sonny & Cher, John Lennon, Petula Clark, Connie Francis, Paul Anka, Leslie Gore, Jerry Lee Lewis, Scott McKenzie, Barbara Streisand, Captain & Tennille, Diana Ross, Ray Charles, Tanya Tucker, Ike & Tina Turner, John Denver, Turtles, Ventures, Everly Brothers, Association, Mamas & Papas, Supremes, Vogues, Fifth Dimension, Carpenters, Cascades, Grass Roots, Sandpipers, Monkees, Partridge Family, Lee Hazelwood, Paul Revere's Raiders, Gary Lewis' Playboys, Jay's Americans, Herb Alpert's Tijuana Brass, Steely Dan, America, Jan & Dean, Johnny Rivers, Neil Diamond, Trini Lopez, Andy Williams, Leslie Uggams, Henry Mancini, Bobby Gentry, Roy Orbison, Jerry Vale, Jose Feliciano, Doris Day, Frankie Avalon, Pat Boone, Ann Margret, JJ Cale…..
Mais aussi : Hoyt Axton, Nancy Sinatra, Dean Martin, Johnny Cash, Frankie Laine, Louis Prima, Wayne Newton, Patti Page, Helen Reddy, David Cassidy, Sammy Davis Jr, Nilsson, Jackie Lomax, BJ Thomas, Olivia Newton John, Albert Hammond, England Dan & John Ford Coley, Jackie DeShannon, Johnny Rivers, Tommy Roe, Brewer & Shipley, Seals & Croft, Sergio Medes, Sam Cooke, Archies, Bob Lind, Richard Harris, Mamas & Papas, Supremes, Vogues (liste non-exhaustive).
Et s'il est une leçon à retenir de Hal Blaine, c'est celle-ci, à propos de Be My Baby : "L'intro à la batterie était une attaque fondamentale. [..] J'ai appris très vite que si vous faites une erreur, il faut refaire la même erreur toutes les quatre ou huit mesures. C'est ce qui s'est passé sur Be My Baby. Parfois, une erreur peut devenir une chose très heureuse et cette intro de batterie en est un parfait exemple." (**)
(*) Traduction française de l'annonce du décès de Hal Blaine sur la page Facebook qui lui est consacrée : "Not only an immensely talented percussionist, but also probably one of the most colorful personalities within L.A.'s 'Wrecking Crew'. Hal's drum work was featured on 40 number one hit singles, 150 top ten hits and has performed on, by his own accounting, over 35,000 recorded tracks. A fixture within the Hollywood studio scene throughout the 1960-1970's, one cannot mention Gold Star Studios without including the great Hal Blaine."

(**) Tentative de traduction pour : "That opening drum part was a major hook. Being the faker that I was one of the things I learned real quick was if you make a mistake, make the same mistake every four or eight bars. That's what happened on Be My Baby. Sometimes a mistake can become a really happy thing and the drum hook is a perfect example of that." (In "Sound Explosion, Ken Sharp, Wreckin Crew L.L.C, Hal Leonard Distri. 2011