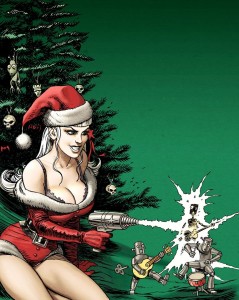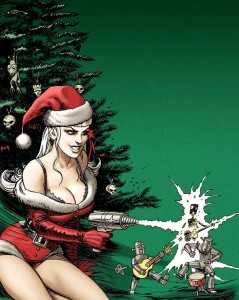 THe BiG BeeB ….. Pfiou ! C'est Nouyel dans quinze jours. Alors, comme tous les ans, une petite sélection de chansons dédiées à cette période où finalement il ne se passe rien, parce que le Père Nouyel, il refuse toujours de jouer au torero.
Sélection mitonnée aux p'tits oignons par moi-même que même j'ai fait des trouvailles que je vous dis pas.
Au programme, rien moins que : Jim Reeves, Louis Jordan, The Tractors, BB King, Sonny James, Perry Como, Art Carney, Dolly Parton, & Kenny Rogers, Band Aid, Woody Herman, John Greer, The Ramones, Korn, Jona Lewis, The Damned, Slade, Otis Redding, AC/DC, Imelda May, Captain Beefheart, Frank Sinatra, Buck Owens, Joe Tex, Los Lobos, Bill Haley, John Lee Hooker, Samba, The Gogo's, Brenda Lee, Alice Cooper, Lon Chaney Jr., The Pogues, John Denver, Cocteau Twins, Vanilla Fudge, Buck Owens, Charlie Stewart, The Sonics, JD McPherson …. y'a vraiment de quoi se dynamiter (façon peuzeule), s'exploser (la tronche), s'éclater (de rire), j'en passe et des meilleures (*).

MeRRy aXeMaS – SLeiGHT BeLLS ReTuRN 2015
Pour lire ce fabuleux (c'est le bon mot, fabuleux, c'est même hyper-réaliste) programme en aléatoire, il faut cliquer sur "normal" dans le lecteur. Alors, miracle de Nouyel, "random" (aléatoire en anglais) apparaît. Étonnant, non ?
Comme c'est la saison des cadeaux, cette année on sort le grand jeu. Y'a un film aussi, sorti en 1964, en pleine guerre froide. Santa Claus Conquers The Martians (connu aussi sous le titre : Santa Claus Defeats The Martians). Le film, c'est pour le cas où le widget du dessus planterait, ce qui serait indubitablement la faute aux martiens, ceux qui ont des passoires sur la tête et des antennes d'escargots sur la passoire. C'est pour mieux communiquer. Dans ce nanar, Santa Claus – le gros en redingote rouge, qu'on dirait jamais rasé, mais la barbe blanche c'est tout du coton hydrophile de chez Carrouf' – a un toc dans la hotte à cervelet : il yohotte. Il est rongé par la yohottite aiguë chronique. C'est irréversible et pas réparable, même avec un mélange Doliprane-Viagra. En dépit de cet insupportable handicap, il est enlevé par les martiens parce que sur Mars, c'est mal barré, y'a pas de Père Nouyel pour refourguer des jouets fabriqués par des p'tits tinois aux ch'tits marmots martiens que c'est trop l'horrible horreur pour eux, horrifiés de ne pas avoir de gentil Papa Coca-Cola sur Mars comme y'en a dans les cheminées du Texas, là où il y a des tronçonneuses qui massacrent à la chaine, sots. Et ça, c'est pas jusse !


(*) Et puis dans The Big BeeB : Canned Heat & The Chipmunks, Johnny Desmond, Suzy Bogguss, Brenda Lee, The Vandals, Shotgun, The Ronettes, Jack Scott, Tom Waits, The Ravens, Wanda Jackson, The Continentals, Little Joey Farr, The Dickies, Bad Manners, Yogi Yorgesson, UK Subs, Terry Fell & The Fellers, Brian Setzer, Joe Satriani, Gene Autry, The Business, Joe Diffie, Charlie Stewart, Bob Marley, Leon Redbone, Frank Como, Dana Dane, Darlene Love, Eminem, Dale Watson, The Frantic Flintstones, Charlie Brown, Pete Rugolo, Butthole Surfers, Bobby Womack, Alan Jackson, The Wilderbeests, Big Bad Voodoo Daddy, Cliff Richard, Eddie C. Campbell, The Cameos. J'ai coupé ces noms, de peur que l'on m'accuse de faire du name-dropping. Y paraît que c'est mal ! Et moi les forces du mal, brrrrrrr !
Ouèche !
Professor BeeB HôPô

Enregistrer