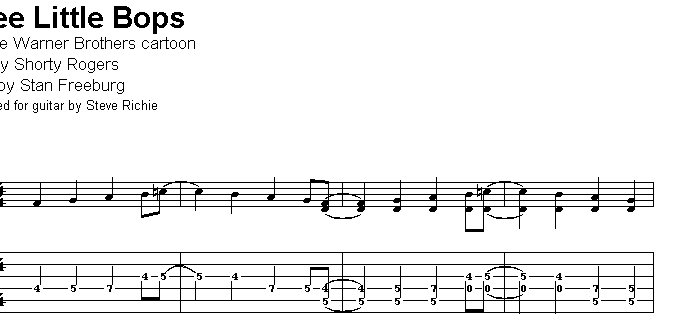 L' essence de Three Little Bops, c'est la bande originale qui le surplombe de bout en bout. Et je vous garantis qu'elle vaut son pesant et qu'elle assure ! Ca bop, ça swingue, ça se tortille, ça tricote, bref, c'est endiablé, ça gigote et ça fout la bougeotte sec ! Car les 3 p'tits bop jouent du bop (normal !) durant 6' et des brouettes…. C'est un peu comme, et dans une moindre mesure, le "Bayview Jump" de Little Charlie ou le "Two Bone & a Pick" de T-Bone Walker et Barney Kessel. Bop, oui … mais à la frontière jump !!!! Et ce bop cochonnesque d'enfer, fait furieusement penser au "Early In The Morning" de B.B. King (Cf la compi "King Of The Blues Guitar", Blues Encore CD 52004) et au "Burdford's Bop" de Jimmy Thackery sur "Drive To Survive", pour ne mentionner que des guita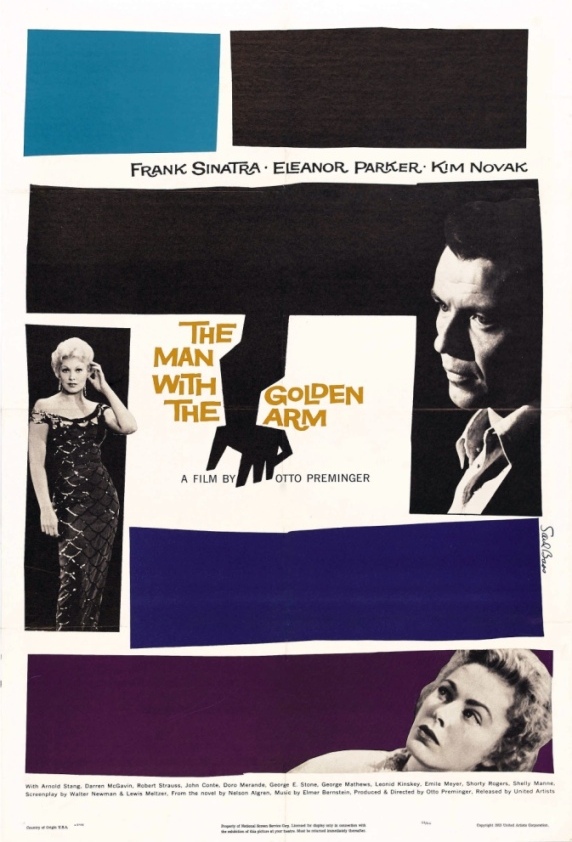 ristes. Et quand on voit le look des Petits Bop, il est impossible de ne pas penser aux Blue Caps et à Gene Vincent !!!
SHORTY RODGERS
Pour infos : la BO de Three Litte Bops a été composé par Shorty Rodgers, trompettiste de jazz, leader du courant West Coast, directeur musical chez Atlantic, puis producteur chez RCA. On lui doit aussi des collaborations à la B.O. de morceaux de bravoure : The Glass Wall et The Man with The Golden Arm. Dans le film de Preminger, il signe, et joue avec son groupe les Giants, tous les arrangements jazzy sous la houlette d'Elmer Bernstein. Brando le voulait pour la musique de The Wild One, mais la production refusa. Rodgers dut se contenter des arrangements ! Plus récemment, il fait équipe avec Lalo Shifrin pour la B.O. de Mission Impossible.
Et dans la série "séries", il n'est pas pour rien dans la bande de Starsky et Hutch.
Bref, Shorty Rodgers, dont il est quasiment impossible de dresser une liste complète des sessions auxquelles il a participé, c'est une pointure qui, pour bon nombre de gamins, dont moi, est entrée dans la légende, avec ce cartoon.
BARNEY KESSEL et SHELLY MANNE
Bon, tout ça c'est bien beau. Sauf que, deux pointures, et pas n'importe lesquelles, viennent musarder dans ce chef d'œuvre. A la guinde, c'est Barney Kessel, derrière les fûts, c'est Shelly Manne. On reviendra plus tard sur Barney Kessel dans ces colonnes. Mais, comme l'Histoire est une boucle sans fin, si Shorty Rodgers s'est incontestablement posé en leader du West Coat, c'est l'album de Manne The West Coat Style qui en est la pierre fondatrice et c'est le même Manne (!) qui double Sinatra dans The Man with The Golden Arm. Enfin, pour ce qui nous concerne, nous pauvres rockers, Tom Waits recrute Shelley Manne pour trois de ses albums Small Changes, Foreign Affair et One From The Heat. On l'a deviné, si j'insiste autant sur cet immense batteur, c'est que, comme Barney Kessel, le film n'aurait pas eu la même texture. Et il est, à mon avis, quasi certain qu'il n'aurait jamais attient ce statut de cartoon culte. Toutefois, comme il ne saurait être question de certitude en la matière, des sources donnent Stan Levey comme batteur, lequel avait déjà beaucoup joué avec Shorty Rodgers.
Quoiqu'il en soit, on peut raisonnablement établir la liste de musiciens suivante comme quasi-certaine :
Vocals – Stan Freberg (credited on the short)
Saxophone – Art Pepper or possibly Jimmy Giuffre)
Trumpet/flugelhorn – Shorty Rogers (credited on the short)
Piano – Pete Jolly
Guitar – Barney Kessel
Bass – Red Callender (ou bien Red Mitchell)
Drums – Stan Levey (ou bien Shelly Manne)
LES TITRES
The Merry-Go-Round Broke Down (Cliff Friend-Dave Franklin)
Three Little Bops (Shorty Rogers- Warren Foster)
Charleston (Cecil Mack-Jimmy Johnson)
Three Little Bops (Shorty Rogers-Warren Foster)
Don't Give Up the Ship (Harry Warren-Al Dubin)
Three Little Bops (Shorty Rogers-Warren Foster)
La suite de notre grand feuilleton : prochainement sur vos écrans !
Ouèche !
Professor BeeB HôPô