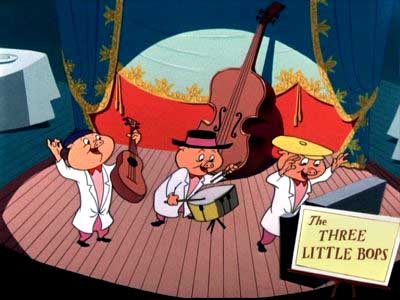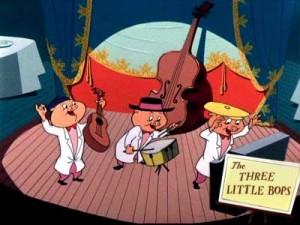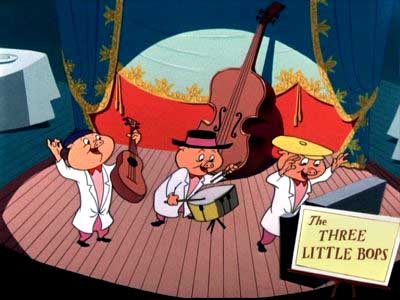 Ce dessin animé, tourné en 1957 par Fritz Freleng, est une énième variation du thème des 3 petits cochons. "Three Little Bops" ? Car c'est le nom du trio sous lequel les petits cochons tapent le bœuf dans des clubs. Instruments : piano, guitare, batterie (occasionnellement le cochon-batteur prend la contrebasse). The Three Little Bops, bien entendu, ils jouent du bop ! Et bien évidemment, dans l'histoire, il y a un "Big Bad Wolf" qui huff and puff and blow the house down. Sauf que là, c'est un loup trompettiste plutôt cool, sympa, presque jovial. Qui ne désire rien d'autre qu'intégrer le groupe. Problème : il joue comme une casserole ! Et ça c'est grave ! D'ailleurs, les "3 P'tits Bops" vont le saquer, sans tambour ni trompette, à chaque fois qu'il pointe le museau !!! Surtout qu'ils sont un peu chatouilleux sur les bords, les gorets !
Or, ce pauvre loup ne réussira à jouer juste que lorsqu'il sera balancé dans les flammes de l'enfer, victime de l'effet boomerangs provoqué par ses pièges (on est chez Warner et chez Fritz Freleng !!!) ….. Et, dès lors qu'il joue comme un dieu, son âme pourra intégrer le trio qui devient The Three Little Bops + One…
La suite très prochainement !
Ouèche
Professor BeeB HôPô