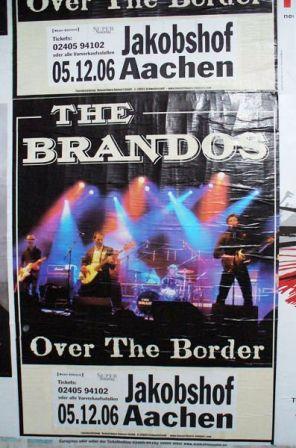 J'ai reçu ce matin un mêle de Wilbert Huigens, ci devant webmestre du site du fan-club des Brandos. Attaché au courriel, ce texte de Petra et Robert, un couple de fans belges qui font un compte-rendu du concert de Aachen.
Good morning!! :)
Well, woke up early just to tell you that the first Brandos concert from this tour in Aachen was just wonderful. Here and there might have been a couple of little mistakes, but in fact I didn't even hear them myself. This band ROCKS! (Don't forget to take your earplugs).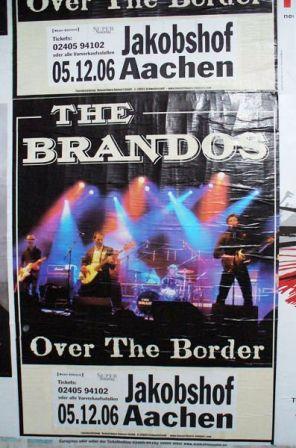 The new guitar player J.F. Vergel is a great guitar player, you can compare his style with Scott Kempner's, but J.F. smiles a lot more. And he's a real friendly guy to talk with.
The drummer Patrick Fitszimmons was wonderful too, he was very dedicated and played with his heart, not with his arms :). Wonderful person to talk to too (compare him with Tom Engels, a nice friendly guy, and a great drummer for the Brandos)
Ernie was himself, although a little nervous I guess, probably because of playing with two new members for the first time, might be from the jetlag too, they arrived one day earlier and didn't have much time to rehearse I guess.
And Dave, what can I say ?, he looks still the same guy as years ago, didn't get any older, still has the same voice, hit guitar playing even got better.
Anyway, it's time to go and see this band now while you can!
After the first song I knew I gotta see this band again as soon as possible, so I already decided to go tonight to the Marburg concert too this evening.
Anyway, here's the songs, as they were on the set list:
"Fight for Love", "Pass the Hat", "The Keeper", "Turn Away", "The Only Love I Can Get", "Anna Lee", "The Other Side", "She's the One", "Triangle Fire", "Gunfire at Midnight", "Tell Her", "N.Y. Volunteer", "The Solution", "Walking Home", "Over the Border", "Let it Go", "Gettysburg", "Can't go Home"
Encore 1:
"The Warrior's Son",  "Nothing to Fear"
Encore 2:
"Dino's Song" (*), "The Siege"
Encore 3:
"The Last Tambourine", "The Light of Day"
Over 2 hours of real pleasure!
Forgot to tell you that the crowd really loved it, that's why the 3 encores I guess.
Also, the new songs fit in perfectly, my favourites "The Only love I Can Get" and "She's the One" came up pretty early in the set. "Let it go" is a super song too!!!!
If you don't have it already,  the new album is gonna be a real gem for you!!!
I'll see if we have some good pictures…
Robert/Petra (texte et photo).
Reproduit avec l'aimable autoristation de "The Brandos, Nowhere Fans Page"