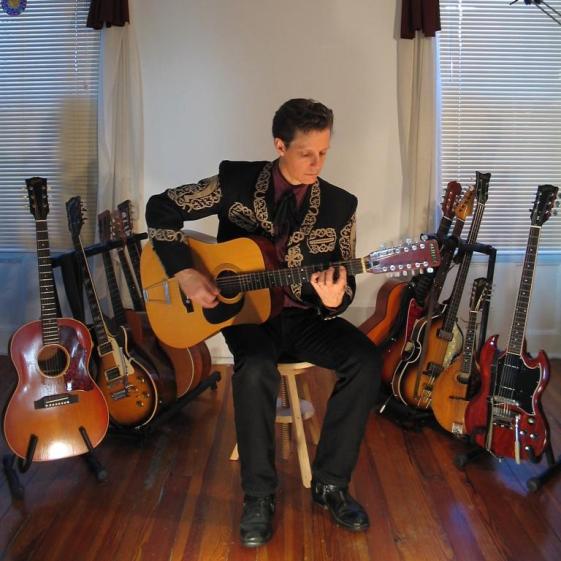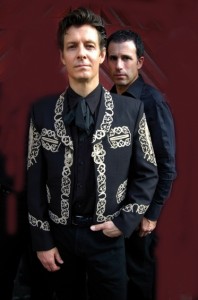 Over The Border, le 6ème opus studio des Brandos a mis 10 ans à sortir. Outre les éternels problèmes de compagnies de disques, Dave Kincaid (et Ernie Mendillo itou) a pris pas mal de recul. Juste histoire de se ressourcer, de retrouver quelques racines et influences réelles.
Car même si les Sonics sont toujours là (He's Waiting), d'autres sources dont les plus visibles se trouvent être dans les groupes de San Francisco (65-69) où DK a passé une grosse partie de sa jeunesse. De ce fait, il "les" a quasiment tous vus : Jefferson, Janis Joplin, CCR, QMS, Santana, Country Joe…. Et ici, c'est Quicksilver (Dino 's Song).
On remarque que l'un des dénominateurs communs chez les trois derniers est la SG, si répandue dans les groupes de la baie. Et l'incroyable influence de John Cippolina sur Dave Kincaid.
Et la SG st aussi la guitare sur laquelle Pete Townshend, influence majeure de Kincaid, a fait des prodiges (cf : Live At Leeds et la période Tommy!!).
Donc la SG (pour Solid Guitar) est la guitare électrique de prédilection de Dave Kincaid ! Du reste il en utilise deux. L'une est accordée un demi ton en dessous du La440, l'autre accordée "normal". Les deux, refrettées avec des frettes jumbos comme les anciennes SG des années 60, sont montées avec des bons gros soapbar (P90) et avec des vibratos conçues pour des Les Paul.
Bien évidemment, ce sont des rééditions du modèle du leader des Who.
En dehors de ça, on a vu Kincaid avec une Gibson ES135 rouge (lors de la tournée européenne de 1995, celle de l'album In Exile) qu'il n'indique pas dans le questionnaire. Pourtant, il s'en sert sur scène lorsque qu'une corde vient à casser. Il l'a énormément utilisée lors des tournées européennes des Brandos du milieu des années 90. Petite précision : la Jazzmaster dont il fait mention est une Jazzmaster Made In Japan.
Quant au Peavey Classic 20, il lui a été conseillé par un vendeur de Manny's et cet ampli fera l'intégralité des solos de Pass The Hat (dont le son est pour le moins assez couillu).
Pour les effets, il utilise une une wah-wah "Cry baby" sur Over the Border et invariablement, la fameuse "réverbe" de chez Fender, celle qui ressemble à une tête d'ampli. Pour ce qui est du Reeves Amp CP 103, je vous promets une note spéciale un de ces quatre, car il vaut le jus !!!!
Enfin, chose touchante dans ses réponses, outre l'évocation des galères du groupe avec les compagnies américaines, est son attachement à ses premiers instruments, dont certains viennent de passations familiales.
Encore une histoire de racines !!!!
Ouèche !!
Prof.

Les questions et les réponses
1) Your ten favourite guitar solos ?/ Vos dix solos de guitare préférés ?
– "Walk, Don't Run", Bob Bogle, The Ventures
– "Whole Lotta Love", Jimmy Page, ("Led Zeppelin II")
– "Soul Sacrifice", Carlos SANTANA, (Santana at Woodstock)
– "Shakin' All Over", Pete Townshend, (The Who – "Live at Leeds")
– "I'm Going Home", Alvin LEE, (Ten Years After at Woodstock)
– "Five to One" Robbie Krieger, (The Doors -"Waiting for the Sun")
– "Black Dog", Jimmy PAGE, ("Led Zeppelin IV")
– "His entire concert at Woodstock, Jimi HENDRIX
– "Good Golly Miss Molly", John FOGERTY (Creedence Clearwater Revival-"Bayou Country")
– "Hot-Rod Lincoln", Bill KIRCHEN, (Commander Cody and His Lost Planet Airmen-"Lost in the Ozone")
2) Most hated ten guitar solos ? / Les dix solos de guitare que vous détestez ?
1 to 8 Neal SHON – Journey: any solo
– "Breezin", George BENSON (Breezin)
– "Woodstock", Neil YOUNG, (Crosby, Stills, Nash & Young – generally I love Neil's work- just not this solo…)
3) Favourites musical piece / Votre plus grand morceau de musique ?
– "Little Fugue in D Minor" – J. S. Bach
4) Sound or noise you like best ? / Le son, le bruit que vous aimez ?
– The "chunk" sound you get when you plug your guitar into the big amp on stage.
5) Sound or noise you hate the most / Le son, le bruit que vous détestez ?
– The broken tape recorder chewing up the tape with many hours of gruelling hard work…
6) Your first equipment ? / Votre premier matériel ?
– Silvertone electric guitar & amp (built into the guitar case!) In the late '60s these guitars were made
for the Sears & Robuck company by Danelcectro. They had nice necks, frets very close to Gibson jumbos, a nice sound and a little 5 or 10 watt tube amp built into the hard-shell case that sounded great. I wish I still had it!
7) Your equipment these days ? Votre matériel actuel ?
– Reeves-Hiwatt CP-103 Pete Townshend amp head with one 4 x 12 cab loaded with "Vintage Purple" speakers (these are reproductions of the Fane speakers made in the early '70s).
– Peavey Classic 20 for solos in the studio, sometimes used with a very nice no-name open-backed 2 x 10 cab loaded with a pair Celestions.
8) Your first guitar and your first mandolin ? / Votre première guitare ?
– My first guitar and mandolin both originally belonged to my grandmother (Barbara Kincaid). She was very artistic and musical, her house was full of instruments -she had a piano and electric organ that I used to bang away on for hours – the really amazing thing is that it never used to bother her… The guitar was an inexpensive japanese-made 3/4 scale spanish/classical from the mid-'60s with the brand name of "Marco Polo" on the head stock. This was the perfect beginner's guitar, I loved it, it was easy to play, and had a nice tone.
Alas, I'm afraid I don't have this one any longer.
– The mandolin I still have, it was also an inexpensive one, made in Czechoslovakia. It too was great for a beginner, with a nice little tone and easy to finger. This one I still have and plan on keeping…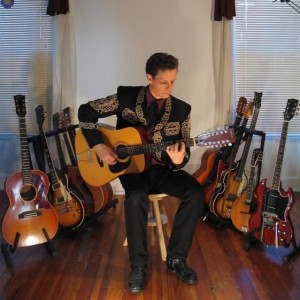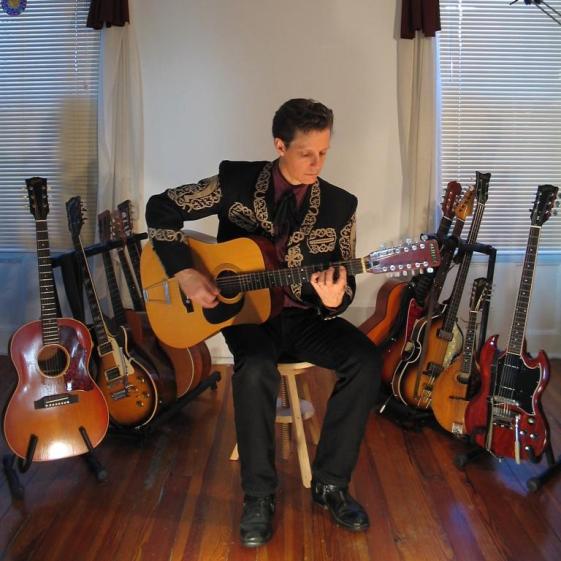 9) Guitars and mandolins you own now ? Vos guitares actuelles ?
– '06 Gibson SG Classic,
– '02 Gibson SG Pete Townshend Reissue,
– '62 Gibson SG Special, -'75 Gibson Les Paul Standard,
– mid-'90s Fender Jazzmaster,
– '65 Gibson Acoustic (model unkown),
– 1890s Washburn Acoustic,
– 1860s R. C. Kretchmar Parlor Guitar,
– '72 Majestic 12-string acoustic, '
– '80s (?) Admira Paloma Spanish Classical Guitar,
– 1913 Gibson A-1 Mandolin,
– '99 Petersen Level 2 Octrave Mandolin
– (every one of the previous instruments was played on the new album "Over the Border),"
– and a'04 Hofner 500/1 Beatle Bass.
10) Favorite cussword ? Votre juron, gros mot ou blasphème favori ?
– shite (in the Irish style…)
11) Best and worst memory as a musician ? / Vos souvenirs de musicien, le meilleur et/ou le pire ?
Best: The day we got our first record contract.
Worst: The day we lost our last american record contract.
12) Man or/and woman to illustrate a bank note ? Homme ou femme pour illustrer un nouveau billet de banque ?
– Mahatma Gandhi
13) Job you would have hate doin' the most ? / Le métier que vous n'auriez pas aimé faire ?
-used-car salesman
14) Plant tree or/and animal you would like to be re incarnated in ? / La plante, l'arbre ou l'animal dans lequel vous aimeriez être réincarné ?)
– Palm tree
15) If God exists what would you like to hear him say to you when you're dead ? / (Si Dieu exi ste, qu'aimeriez-vous, après votre mort, l'entendre vous dire ?)
– "Despite all the difficulties, you did the right things down there."
16) Your musical projects ? / Vos projets ?
– The Brandos, Irish songs of the American Civil War.
La suite ICI
La page Facebook des fans des Brandos