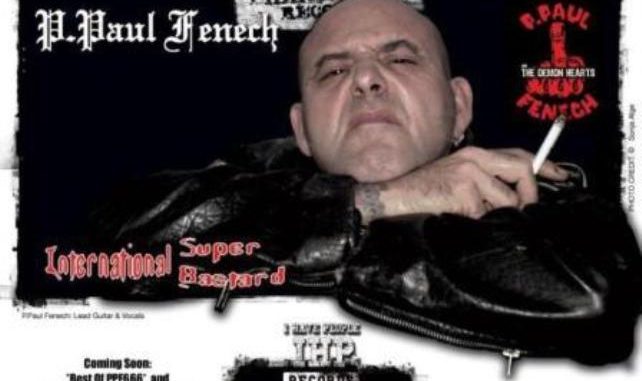 PauL FeNeCH 2/2 – Interview
Paul Fenech n'y est pour rien, mais le joindre, ça n'a pas été une sinécure. Car, déjà, il y a une paire d'années, j'avais tenté un travail d'approche via une tierce personne. Laquelle, apparemment, avait fait barrage ou, plus probablement, oublié. Ce qui revient à peu près au même.
Du coup, je craignais un refus, d'autant plus qu'il est pour le moins assez occupé.
Mais il s'est prêté très complaisamment à l'exercice.
Vu le personnage sujet, j'ai mis le paquet en lui posant 20 questions (au lieu des 17 traditionnelles). Et les réponses sont du pur Fenech. Du vrai de vrai !
Au cas où, le Glock 9mm est un flingue adopté aussi par la maréchaussée nouillorquaise…
Enfin, lorsque j'ai ouvert ma page "My Space", et comme ma première demande "d'amis", c'était lui, il m'envoyé derechef le post suivant : "Hello thanx for having me first on your page". Et en y ajoutant le flyer de promo ci-dessous.
C'est pas gentil ça ?
Ouèche ?
Prof.
1 – Your ten favourite guitar solos ?
That's easy : any ten of mine
2- Most hated ten guitar solos ?
Any ten by other people
3 – Favourites musical piece ?
Rock and roll : "Sleepwalker"
Other : Beethoven's glorious 9th
4 – Sound or noise you like best ?
My Glok 9mm
5 – Sound or noise you hate the most ?
Police cars
6 – Your first equipment (amps, pedals, gadgets) ?
Guitar Vox -Meteor amp – Selmer true voice 5watt
7 – Your equipment these days: (amps, pedals, gadgets) ?
Guitars : always Fender Strats I have 32 and there is only Marshall in my world
8 – Your first guitar ?
See above
9 – Guitars you own and play now (your favourites and your favourite) ?
See above
10 – Favourite cuss word ?
Of course the always wonderful Fuck in all it's uses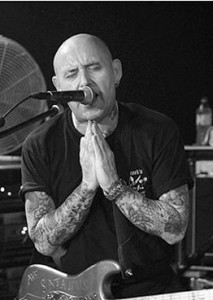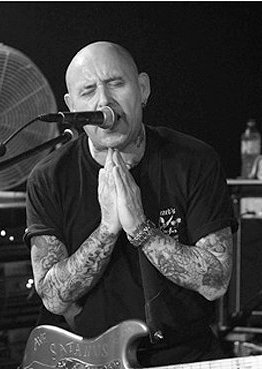 11 – Best and worst memory as a musician ?
Today and tomorrow
12 – Man or/and woman to illustrate a bank note ?
Hank B. Marvin
13 – Job you would have hate doin' the most ?
Any other then what I do
14 – Plant tree or/and animal you would like to be re incarnated in ?
Dog and cactus
15 -If God exists what would you like to hear him say to you when you're dead ?
Welcome to heaven errrrrr oh it's you Paul sorry wrong place
16 -If you weren't married and you could make love to any famous actress, who would it be?
No comment
17 – Your musical projects ?
The Meteors third outsiders surfing dead and the wonderful world of ppf solo
18 – Your 10 best songs ever ?
Any ten of mine
19 – If everything could be replay, what will you not doing again?
Being so nice and shy and to not be so full of humility and weakness
20 -Your best masterwork in art (pictures, paintings, sculptures, etc) ?
Anything by Bosch or Goya
PS : Ayant le triomphe modeste, et au sujet de la 12ème réponse, je ne dirais rien de l'intuition glissée dans l'un des tous derniers paragraphes d'une note rédigée il y a deux ans.