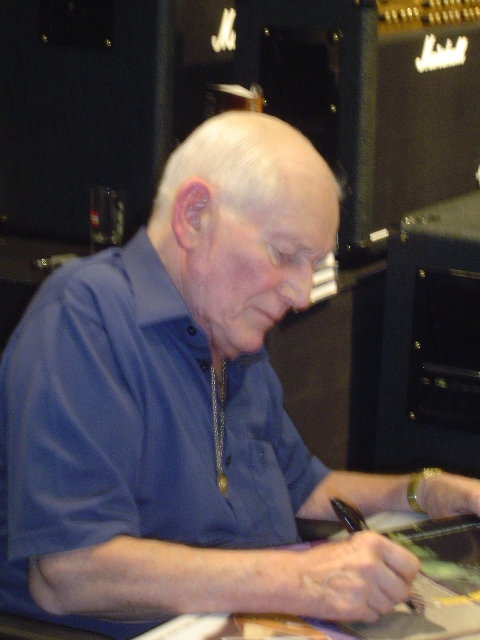 JiM MaRSHaLL
(29 juillet 1923 – 5 avril 2012)
L'hommage publié sur le site de la compagnie de conception et fabrication d'amplis qu'il avait créée :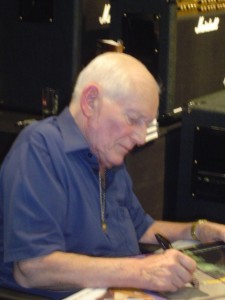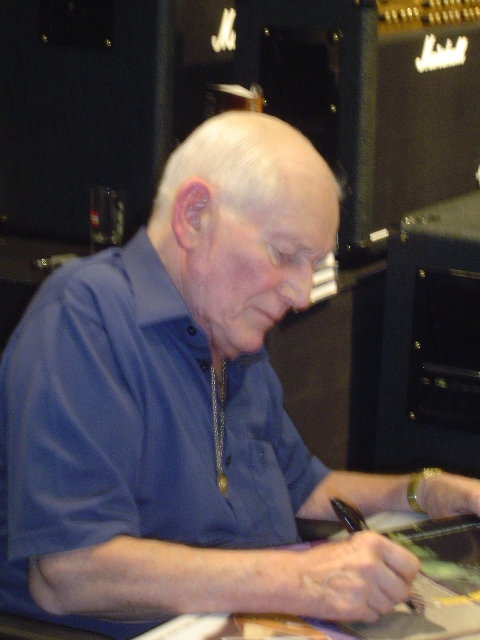 It is with profound sorrow that we announce the passing of our beloved founder and leader for the past 50 years, Jim Marshall. While mourning the Guv'nor though, we also salute a legendary man who led a full and truly remarkable life.
Jim's ascent into the history books as 'the Father of Loud' and the man responsible for 'the Sound of Rock' is a true rags-to-riches tale. Cruelly robbed of his youth by tubercular bones, Jim rose to become one of the four forefathers responsible for creating the tools that allowed rock guitar as we know and love it today to be born. The ground breaking quartet also includes the late, great trio of Leo Fender, Les Paul and Seth Lover – together with Jim, they truly are the cornerstones of all things rock.
In addition to the creation of the amps chosen by countless guitar heroes and game changing bands, Jim was also an incredibly humble and generous man who, over the past several decades, has quietly donated many millions of pounds to worthy causes.
While the entire Marshall Amplification family mourns Jim's passing and will miss him tremendously, we all feel richer for having known him and are happy in the knowledge that he is now in a much better place which has just got a whole lot louder!
Rest in Peace & amp; thank you Jim.
Your memory; the music and joy your amps have brought to countless millions for the past five decades; and that world-famous, omnipresent script logo that proudly bears your name will always live on.

Tentative de traduction :
C'est avec une profonde tristesse que nous annonçons le décès de notre fondateur et dirigeant bien-aimé, Jim Marshall, depuis 50 ans. En pleurant le Guv'nor, nous saluons également un homme légendaire qui a mené une vie bien remplie et vraiment remarquable.
L'ascension de Jim dans les livres d'histoire en tant que «Father of Loud» et l'homme responsable de «The Sound of Rock» est un véritable conte de fées. Cruellement dépouillé de sa jeunesse par une tuberculose osseuse, Jim est devenu l'un des quatre vénérables responsables de la création des outils qui ont permis la naissance de la guitare rock telle que nous la connaissons et que nous l" aimons aujourd'hui. Le quatuor novateur comprend également le regretté trio de Leo Fender, Les Paul et Seth Lover – avec Jim, les pierres angulaire de tout ce qui est rock.
En plus de la création des amplis choisis par d'innombrables guitar heroes et groupes qui changent la donne, Jim est également un homme incroyablement humble et généreux qui, au cours des dernières décennies, a discrètement donné plusieurs millions de livres à des causes louables.
Tandis que toute la famille Marshall Amplification pleure le décès de Jim qui nous manquera énormément, nous nous sentons tous plus riches de l'avoir connu et heureux de savoir qu'il se trouve maintenant dans un bien meilleur endroit.
Reposez en paix et merci Jim.
Votre héritage : la musique et la joie que vos amplis ont apportées à d'innombrables millions de personnes au cours des cinq dernières décennies; ainsi que ce logo mondialement connu et omniprésent qui porte fièrement votre nom.

Et l'hommage de "The Mirror" :
Le site de Marshall