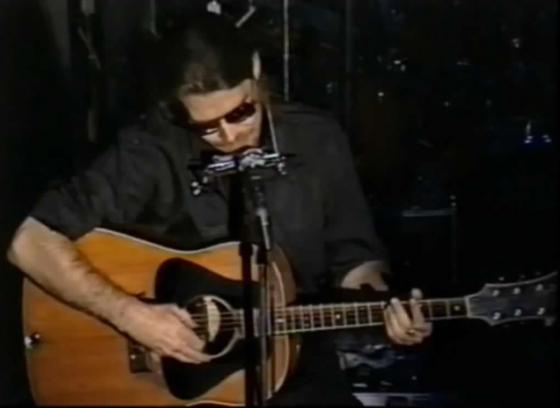 HaNS oLSoN 2/3 (Deuxième partie, le questionnaire part two)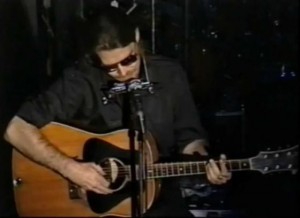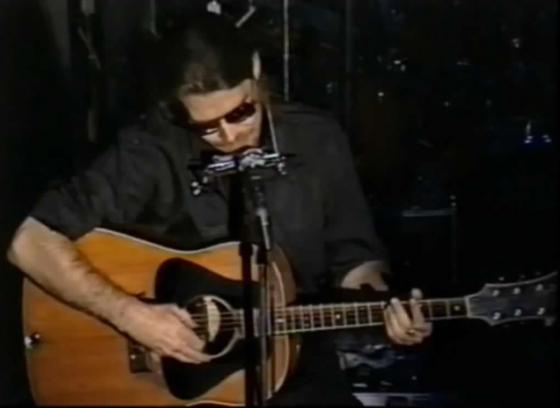 Hans Olson a beaucoup tourné par chez nous. Ceux qui y étaient se souviennent encore de ces soirées très chaudes aux festivals de Blues de Boulogne de 1994, 1995 et 1996. C'est qu'il a aussi beaucoup à voir avec nous. D'ailleurs, ce n'est pas pour rien qu'il mentionne ses potes de Toulouse dans la dernière question. Sans eux, pas de "Arizona Dream", ni de "Other Sides".
De même que sans Sky Ranch il n'y aurait sûrement pas eu "Hans Olson".
Depuis, les choses ont bien changées. Il ne veut plus traverser l'Atlantique, se contentant de jouer exclusivement rien qu'en Arizona et alentours. Avec un petit bonusse pour les patrons de clubs du cru : ayant décidé une bonne fois pour toutes qu'il ne jouerait plus en groupe, il vient avec son matos. Lequel matos tient allègrement dans le coffre de sa bagnole. Y compris les guitares, la sono et la table de mixage.
Donc pratiquement pas de frais. C'est tout bénéf ! Résultat : Olson est booké pratiquement tous les soirs. Et dans les rades, il n'y a pas que deux crotales perchés sur un cactus vert-néon-fluo !!
Sa discographie, pour l'instant, c'est quand même treize albums et soixante-dix compos ! Faut bien justifier quarante carats de labeur ! On peut aussi inclure dans cette somme que, depuis des lustres, c'est l'un des meilleurs, sinon le meilleur, dans la catégorie "je suis seul sur mon tabouret avec ma voix, ma gratte et mon harmonica et je vous fous le feu dans la salle toute la nuit". Demandez voir aux deux crotales…
Pour en arriver là, il a usé plus d'une centaine de musiciens depuis ses débuts en 1967 en Californie l Et fait quelques choix. Dont celui de renoncer définitivement à une carrière plus "prestigieuse". Mais moins libre. Et puis, mettez-vous à sa place, entre Hollywood et Phoenix, les putes de Sunset Boulevard et les crotales, la balance est tout de suite faite (*).
Pour qui est du questionnaire, Hans l'a rempli de façon très minutieuse à la manière de David Kincaid.
Simplement, le courriel de retour était accompagné du texte suivant, qui entérine cette minutie et la difficulté de l'exercice : "First of all, let me say these "surveys" are very hard to do…My answers changed everyday. But, I guess you have to just stop and let the answers for that day be the ones you let go… D'ailleurs les commentaires sont souvent très pertinents.
La troisième et dernière note de cette série sur l'un des plus grands bluesmen contemporains, c'est pour vendredi.
Ouèche !
Professor BeeB HôPô

Les questions et les réponses – 2ème partie
17) Your ten best songs:
Mine or someone elses? Not sure what that means.
There's too many songs I love to answer that question. It depends how I feel each day what my favorite songs are..
18) Your ten best songwriters: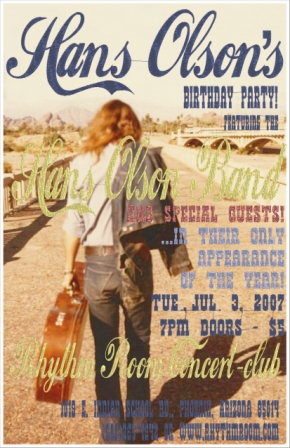 Bob Dylan
Tom Waits
Bruce Springsteen
Willie Dixon
Jackson Browne
Woody Guthrie
Joni Mitchell
Mark Cohn
Rickie Lee Jones
19) Your ten best singers:
(Favorite…not "best"..no such thing…)
Aretha Franklin
Muddy Waters
Roy Orbison
Bonnie Raitt
Tracy Chapman
Johnny Cash
Mick Jagger
Sam Cooke
John Lee Hooker
Bruce Spingsteen
James Brown
19) Your favourite hobbies:
Building projects around my house
20) How did you learn music and learn guitar:
My first teacher told me I was "tone deaf" and would never learn to play, so I quit and just bought a book with chord diagrams and then just taught myself to play by ear..
I don't read music at all. I also taught myself to play harmonica..
I ended up holding it upside down because
I didn't know which way it was supposed to go…
I learned by jamming with albums and then I joined a band as a lead singer when I was 13 years old. The guys in the band were good musicians and I learned a lot from them.
21) Your greatest musical influences:
Bob Dylan, Johnny Cash and Muddy Waters.
22) Four or five words to describe your personality:
Committed, intense, concerned, amused
23) Who is the greatest band ever:
The Rolling Stones
24) Your greatest satisfaction (in career and/or life):
Each album I've ever made is like a child.
I'm so proud to have l made something that will live on after I'm gone.
Buying a home with my wife in 1991 is my proudest personal moment.
25) If everything could be replay, what will you not doing again:
Not sign with a certain manager….
I think it's all about who you align yourself with in this business
and I made bad choices when I was young.
26) Your best masterwork in art (pictures, paintings, sculptures, etc.):
Do you mean art that I created? I haven't ever done anything but music.
27) Specification of your guitars:
I don't know what that means…
28) What does represent Europe for you:
I always think of Europe as where a lot of the Americans came from. America is a melting pot of the whole world. When Europeans talk bad about "Americans",
they are really speaking about the people of the whole world… Unless, they are speaking about the Indians… they are the only true Americans.
Europe is the Grandfather of America. It has all that history and experience.
I am always amazed at the fact that civilization has been going on there for so long.
America is just a baby compared to the rest of the world.
29) Are you planning to come to play in France:
No… I'm retired from touring.. I miss beautiful France…
I've played in so many cities, all over France, for 8 years, and had a great time, but now I am finished with the road.
I never made enough money to make it worthwhile to travel so much.
If the money was better, I would still be touring and I would come back to France as much as I could…
I miss my friends in Toulouse !