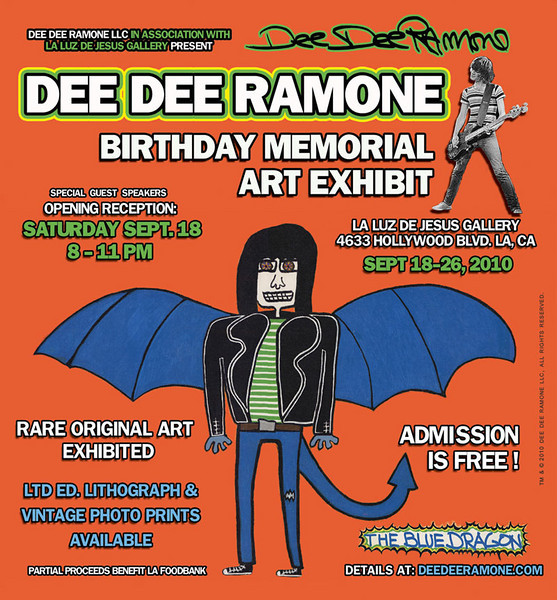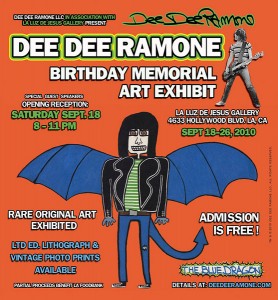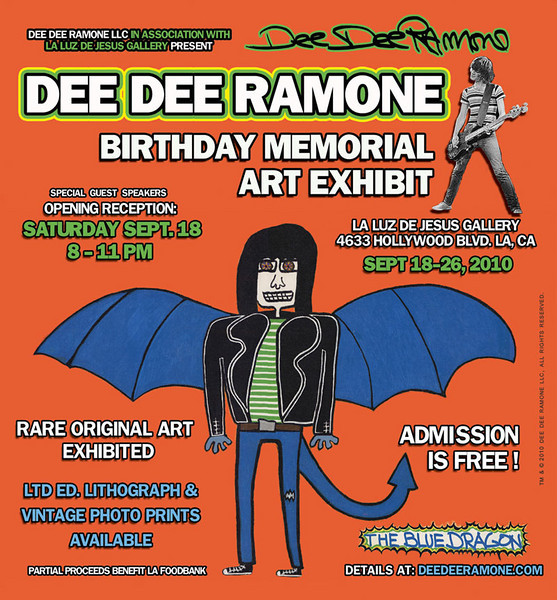 Extrait de l'article de présentation de l'expo :
"Dee Dee Ramone will forever be an enigmatic punk rock icon. While most are familiar with his musical legacy as a founding member and songwriter in the world famous Ramones, many are less aware of his talent for art and painting. Like Dee Dee, the work is rebellious, dynamic, eccentric and comedic. An exhibition of over thirty original pieces have been assembled, many of which will be displayed for the very first time at this extraordinary event sanctioned by Dee Dee's Estate to honor the rock legend.
Rare, vintage images of Dee Dee have been cherry-picked from the critically acclaimed, Jenny Lens Photo Archive and will be available for purchase as oversized, signed, numbered, museum quality prints. Hailed as the most published first-wave west coast punk photographer in the history of the movement, Jenny will share her experiences with the Ramones at the opening night reception, specifically citing Dee Dee as the reason she picked up a camera initiating her prolific body of work from 1976-1980."
(En français, ça doit donner quelque chose comme : Dee Dee Ramone restera à jamais une icône énigmatique du punk rock. Si la plupart connaissent son héritage musical en tant que membre fondateur et auteur-compositeur chez les Ramones, beaucoup sont moins au fait de son talent pour l'art et la peinture. Son oeuvre est rebelle, dynamique, excentrique et comique. Une exposition de plus de trente pièces originales a été assemblée, dont beaucoup seront exposées pour la toute première fois lors de cet événement extraordinaire sanctionné par Dee Dee's Estate pour honorer la légende du rock.
De rares images vintages de Dee Dee ont été sélectionnées parmi les archives photographiques Jenny Lens, acclamées par la critique, et seront disponibles à la vente en format surdimensionné, signées, numérotées et de qualité musée. Jenny partagera son expérience avec les Ramones lors de la réception de la soirée d'ouverture, citant notamment Dee Dee comme étant la raison pour laquelle elle a pris une caméra initiant son prolifique travail de 1976 à 1980.")
Ouèche !
P.c.c.
Hal Véole