WôôSToCK eN CHiFFReS
Mar 8th, 2008 | By
Professor
| Category:
De BRiC eT De BoP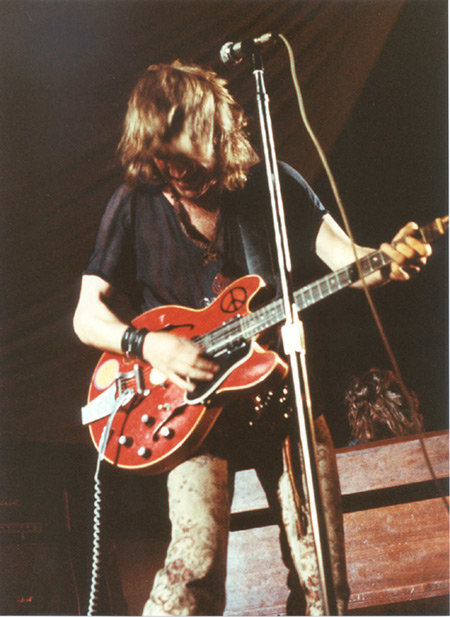 La liste de chiffres alignés ici ouvre sur l'infini et le relatif.
C'est ce qui la rend encore plus impressionnante.
Elle est dans le texte original, car extraite du livret du coffret célébrant le jubilé de l'évènement, un recel avec des inédits (déjà vus ailleurs soit dit en passant). Notamment Jefferson Aiplane et le sublime "White Rabbit" où Grace Slick prouvait qu'elle était l'une des meilleures chanteuses au monde du monde pour de vrai.
Remarquez : les commentaires du coffret font l'impasse totale (pas une ligne !!) sur Ten Years After et le prodigieux medley qu'est "I'm Going Home".
De même, rien sur l'envahissante performance des Who qui jouèrent la quasi-totalité de "Tommy"….. C'est peut-être là, alors que Townshend avait jeté Abbi Hoffmann hors de la scène à coups de lattes et de SG, qu'ils comprirent qu'il fallait peut-être laisser un gros bout de "Tommy" sur les bas côtés. Et se recentrer sur quelques bons vieux classiques. Ça ferait mieux passer la pilule !
Encore qu'ils vinrent jouer leur rock-opera l'hiver suivant dans tous les opéras européens. Sauf à Paris, où ils se firent refiler le théâtre de l'Étoile.
Rien non plus sur la panne de matos du Gratefull Dead !!!! Pas plus que sur les Doors qui étaient pressentis, mais, paraît-il, le procès de Miami…. Densmore était quand même backstage pour Joe Cocker.
On trouve, malgré tout, le pourquoi officiel de l'absence de Lep Zep de l'affiche prévisionnelle : "Led Zeppelin were in middle of their third U.S. tour of the year at the time of the festival and, given their rapid ascension to the winner's circle, it's hard to believe they weren't on the promoters' original wish list. In the end, though, Zeppelin were otherwise engaged on Woodstock weekend, playing on Sunday night just a few hours' drive to the east In Wallingford, Connecticut"…. C'était pas franchement un scoop, même en 1994, mais ça resituait un peu le débat…
Notez bien, 'sont pas les seuls dans le cas. Zappa refuse, pas convaincu de jouer dans la boue. Lennon n'arrive pas à convaincre les Beatles, mais ses offres du Plastic Ono Band sont rejetées par les organisateurs. Quant à Dylan : il reste chez lui pour s'occuper de son fils malade !! Et les Pierres qui Roulent ? Trop connotés pour le staff.
L'apothéose, la bourde du siècle : Jethro Tull qui décline, pensant que ça ne leur servirait à rien ! Etc…. Même les Moody Blues ! C'est dire !
Les chiffres ci-dessous ne concernent directement que le public. A sa manière, chacun d'eux explique pourquoi le festival ressemblait plus à un village indonésien après tsunami qu'à la communauté enchanteresse et enchantée qu'on nous a si gentiment présentée. Une zone sinistrée pour laquelle le plan Orsec n'aurait servi à rien.
Les babas de l'époque ont compris la leçon : maintenant ils partent en congés payants en mobil home !
Ouèche !
Professor BeeB HôPô

0 Collection bin anywhere within the eyeshot of the festival site
1 Case of pneumonia
1 Diabetic Coma
1 Price of a hot dog on-site by August 16 (in dollars)
1 Price of a loaf of bred or a quart of milk (in dollars)
1 60: minimum wage paid to workers preparing the site (in $ per hour)
2 Hours required to wait in line to make a phone call
2 Festival births
2 Tickets gates with 30 entrances each
3 Deaths (one each from heroin overdose, rupture of appendix and run over by a tractor)
3 Tracheotomies performed
3 16: Running Time of Mike Wadleigh's film "Woodstock" (in hours)
4 Price of acid or mescaline per hit, in dollars
4 Miscarriages reports
6 Months of preparation time before the festival
7 Minutes after 5p.m. when Ritchie Havens kicked off the musical proceedings on Friday, August 15
8 Hours to drive from New York City to White Lake, a distance of 98 miles
10 Shots fired in the air by farmer Ben Leon, fed up with the noise, with his 30.06 rifle
10 Million of yards of blue cotton twill and striped T-shirting at the festival
13 Months between Jimi Hendrix performance and his death
14 Months between Janis Joplin's performance and her death
15 Miles walked by large numbers of festival-goers who abandoned their cars due to extreme traffic conditions
15 Price for an ounce of marijuana (in dollars)
17 Miles of bumper-to-bumper traffic along route 17B
18 Price of admission for three days (in dollars)
18 Number of doctors who treated 6.0000 patients
20 Amount of bail bond for those held for possession of L.S.D. (in thousands of dollars)
25,33 Average age of festival organizers Arthur Kornfeld (26), Mike Lang (24) and John Roberts (26)
33 Number of people arrested on drugs charges
36 Number of nurses who treated 6.000 patients
40 Shortest waiting time between acts (in minutes)
50 Numbers of additional doctors flown in from New York City on August 16
50 Cents required to purchase a hot dog at inflated prices at luncheonettes near the site
51 Number of cauldrons of rice-carrot-raison combo made at the Hog Farm Commune by 3 a.m. Sunday
60 Approximate number of public telephones
65 Number of buses sent from New York City from the Short Line
65 Amateur radios employed
80 Width of the stage (in feet)
80 Lawsuits filed after the festival
90 Percentage of festival attendees smoking marijuana
100 Approximate number of arrests on narcotics charges
110 Days elapsed between the Woodstock and the Altamont festivals
120 Longest waiting time between acts (in minutes)
150 Volunteer cops
346 Number of off-duty New York City policemen hired $50 per day each, joined by 100 local sheriffs, several hundred State Troopers and deputies from 12 counties
346 Number of cops who walked off their jobs on the first day of the festival
400 Festival-goers freaked-out on bad L.S.D. trips
450 Cows unfenced for three days with the campers
600 Number of portable toilets
1300 pounds of canned food, sandwiches and fruit ferried in by emergency helicopters
2366 Population of Bethel in August, 1969
2500 1989 price of posters used to advertise the original event (in dollars)
4062 Tickets holders who received a refund check because they were unable to gain admittance
8 000 Price paid in 1989 fo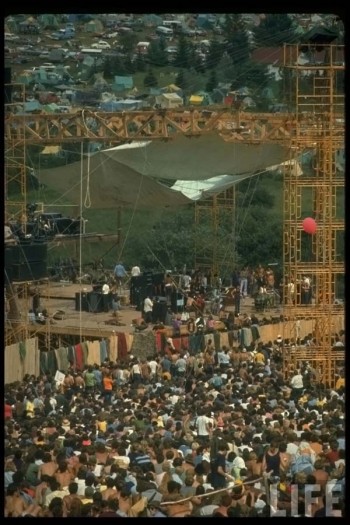 r an uncollected festival ticket, sold by an attendee (in dollars)
24 000 Asking for the same uncollected festival ticket (in dollars)
30 000 Numbers of sandwiches prepared by the Women's Group of the Jewish Community Center of Monticello and distributed by Sisters of the Convent of St. Thomas
50 000 Reported prize paid to lease Max Yasgur's 600-acre pasture (in dollars)
60 000 People expected to attend festival
10 0000 Numbers of campers
18 6000 Tickets sold
250 000 Number of people who never made it to the site
315 000 Feet of film shot for Woodstock Film (120 hours if shown straight through)
320 000 Estimated number of people who left before Jimi Hendrix's set
400 000 Estimated number of people who attented festival
500 000 Long distance phone calls placed the first day of festival
500 000 Frankfurters and hamburgers consumed on the first day
500 000 Estimated cost of festival (in dollars) revised to $2.6 million ten month later
600 000 Dollars worth of bad checks reportedly signed by John Robertss, which were later covered
1 300 000 dollars collected in advance sales

Aucune de ces données ne concerne les groupes ! Alors voici un chiffre … très significatif lui aussi : $250 000, c'est l'intégralité du salaire des groupes.
Rien que les Who, c'est bien connu depuis la sortie de "Live At Leeds" et la publication du contrat du concert de Woodstock, $12 500 !!
Pas un groupe ne s'est déplacé pour des nèfles.
D'autant que, luxe suprême, tous ont été acheminés par hélico.
Ouèche !
Professor BeeB HOPO
(*) "WOODSTOCK" – Three days of peace and music 25th anniversary collection. Atlantic 7567-82636. 1994
P.S. : A la fin du film, les plans sur les ramasseurs de détritus et les plans sur le champ le lundi matin en disent quand même assez long.