Royal FLuSH – CHaSSe GaRDée !
Jan 31st, 2009 | By
Professor
| Category:
FuN ZoNe
,
GuiTaReS, aMPLiS eT MaToS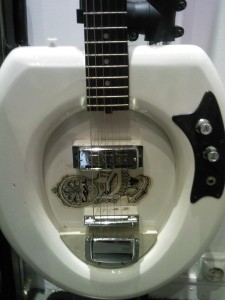 Nan, ceci n'est pas une réponse hilarante à un désopilant commentaire dont l'intrinsèque raison d'être est une remise au jour du célèbre et néanmoins fameux coussin péteur, amusante farce que l'on croit tombée en désuétude. Voire en décrépitude. Mais qui fait surtout le bonheur et la joie de Binet qui, non content d'être le dessinateur des Bidochons, est aussi un cas.
D'ailleurs cette attrape aurait pu, idem-itou, faire le bonheur de Screamin'Jay Hawkins. Dont l'hymne (ceux qui connaissent le savent bien que c'est un hymne !), "Constipation Blues" a doublé le trou de balle à plus d'un. Surtout avec ses onomatopées (non ce sont pas que des borborygmes !) légendaires et d'un réalisme troublant !
Et puis ça : "Ladies and gentlemen, most people record songs about love, heartbreak, loneliness, being broke… Nobody's actually went out and recorded a song about real pain. The band and I have just returned from the General Hospital where we caught a man in the right position. We name this song : "Constipation blues".
Une intro pareille, ça resitue clairement le débat, ça remet les choses à leur juste place et, fatalement, ça reste gravé dans les annales à jamais !
C'est que ça vous a du sens  Et du fondement !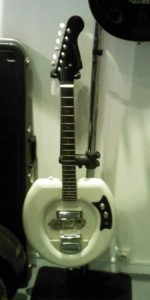 Pour en venir à notre gratte à lunette, car il s'agit quand même d'une note sur une guitare hors normes, même moi qui suis sceptique, et pas seulement à Fos, je suis resté grave incrédule, mais grave-total-incrédule-de-chez-grave-incrédule quand je l'ai entrevue furtivement d'abord. Pour de vrai ensuite.
Plus d'aisance ! Naturel ….
La pelle, elle se trouvait à Pigalle, rue de Douai, bien sûr, plus précisément chez Guitare Collection. C'était le 28 février 2009 !
De la rue, elle était visible à travers la vitrine.
Pourtant, elle semblait à moitié planquée dans un recoin du magasin, elle trônait, improbable tinette, la crosse du manche à l'exacte hauteur d'un non moins improbable mais invisible rouleau de pécu ! Sans dec' !
Et le pire, c'est qu'elle était coincée entre trois murs de grattes de prestige, coincée comme un siège de feuillée dans un cagibi… coincée dans un p'tit coin !
Z'ont de l'humour, chez Guitare Collection …
C'est aussi ça, la compétence …
Bon maintenant, j'enfonce le clou. C'est que la guitare, c'est une "Nippone". Or, quand on sait tout ce que les Japonais ont inventé comme robinets et douchettes incluses dans leurs sièges de goguenots pour se nettoyer le fondement et le reste, on devient goguenard et admiratif devant leur sens de l'auto-dérision.
Ouèche !!
Professor BeeB HôPô
PS : j'ai failli oublier ! Pour les non-anglicistes (ça existe encore !) : "Flush," c'est l'onomatopée anglo-saxonne pour le bruit de chasse d'eau !