Me, THe Hi De Ho BLoG et CHaRLeS PeTeRSoN
Mai 25th, 2007 | By
Professor
| Category:
BoPPiN' THe JaZZ
Ouah ! l'autre hé ! Le Monsieur Hi De Ho Bloggeur qui consacre sa vie (ou presque) et un blog (entier) à Cab Calloway (quelle idée, pfff), m'a envoyé une superbe photo avec le commentaire suivant :
"Elle est du grand photographe de jazz Charles PETERSON.
Prise en 1939, on y voit Duke ELLINGTON à la guitare, Cab au piano et, de gauche à droite, Sister Rosetta THARPE (guitariste et chanteuse de gospel, "précurseuse du Rhythm n' Blues et du Rock), le trompettiste Rex STEWART, un blanc-bec inconnu mais foutrement chanceux et la chanteuse Ivie ANDERSON.
C'était lors d'une soirée privée chez l'Ambassadeur de France, je crois (comme quoi, les fêtes chez l'Ambassadeur, c'est pas du pipeau !)".

Pfff ! C'est pas pour dire, mais il manque l'âge du capitaine, la composition des canapés et le n° de biniou de l'ambassadeur. Et puis c'était pour me faire remarquer qu'il avait bien compris que "Bop Pills" est beaucoup consacré à la guitare.
Bien vu !
Et comme je suis bon joueur, la voici. Pour ceux qui savent pas, "Cab", c'est le petit nom de Cab Calloway.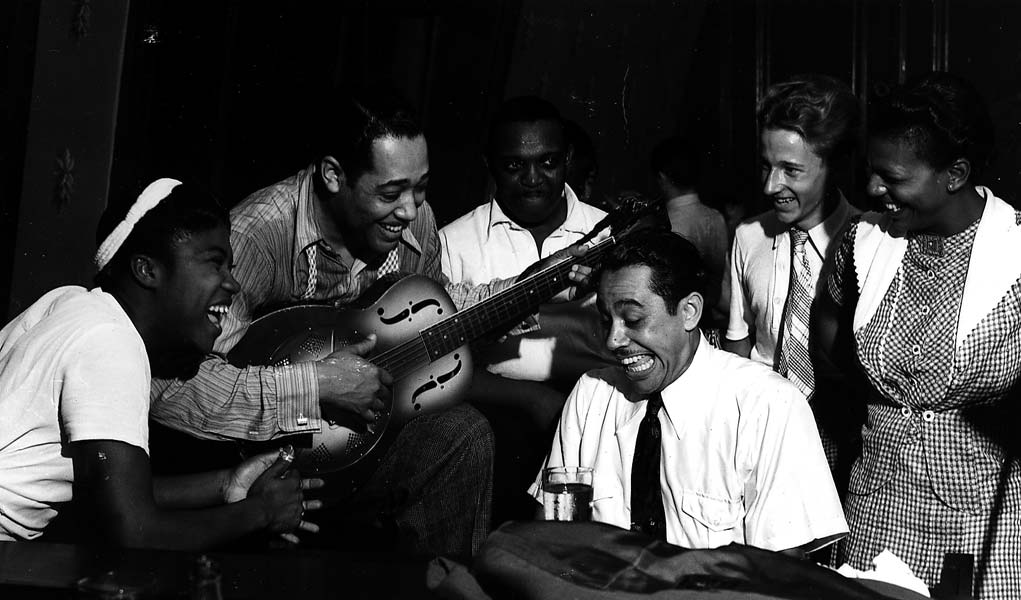 Là où ça coince, c'est que je veux avoir toujours raison. Et le dernier mot. En plus.
Donc, j'ai trouvé trois autres photos, hé ! hé !, toujours prises par Charles PETERSON, le photographe jazzeux. La précision, c'est parce qu'il a un homonyme, mais plus jeune et qui fait dans le contemporain, voire dans le rock (Pearl Jam et Cobain), c'est parce qu'il est plus jeune et que le 1er CP du nom, le jazzeux cher au Hi De Ho Bloggeur, n'est plus de ce monde.
Les trois photos que le Hi De Ho Bloggeur a forgété de me donner concernent aussi notre sujet : les guindeux et leurs pelles. C'est vrai qu'il n'y a pas Cab Calloway dessus. On est jusqu'au boutiste ou on ne l'est pas.
N'empêche, l'ensemble des quatre photos, c'est un sacré paquet de beau linge !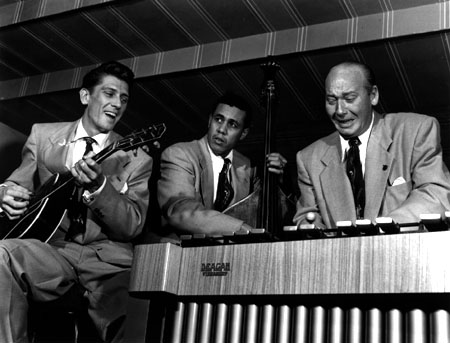 Tal Farlow; Charles Mingus; Red Norvo – The Embers, East 54th, NYC, 1951
Billie Holiday, 24 ans, pendant l'enregistrement de "Strange Fruit" (Commodore Records, 20 avril 1939) Jimmy Mc Lean à la guitare.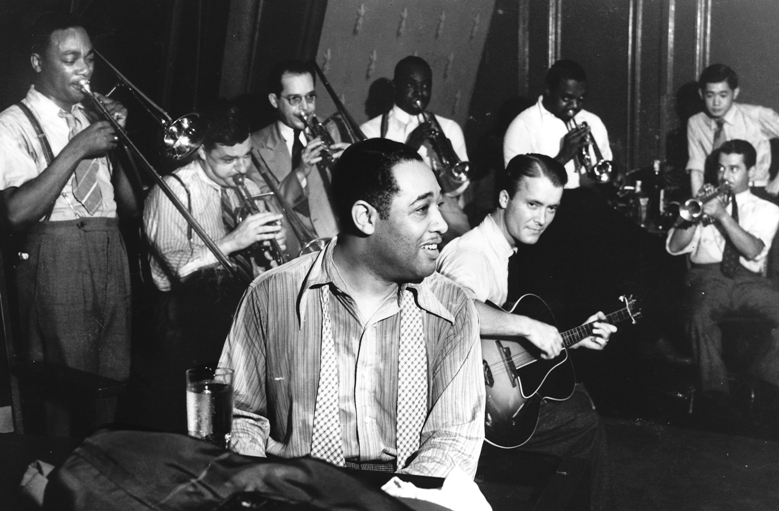 J.C. Higginbotham; Brad Gowans; Juan Tizol; Cootie Williams; Rex Stewart;
le producteur Harry Lim; Max Kaminsky (devant Lim);
Eddie Condon (guitar); Duke Ellington
Session privée, NYC, Août 1939.

Moi qui en était resté à Leloir, Gassian et Mick Rock, là, j'ai franchement failli me rendre !
Et ces photos en N et B me rendent encore plus amoureux de New York.
C'était une note en copinage ternaire.
Ho-de-ho-de-ho
Ho-de-ho-de-ho
Hi-de-hi-de-hi
Hi-de-hi-de-hi
Bodoo-la-doo-la-doo-ba-doo
Bodoo-la-doo-la-doo-la-doo
Ho-de-ho-de-ho
Ho-de-ho-de-ho
Shoo bi di bi di. Shoo-bi-dibi-di …
Ouèche !
Professor BeeB HôPô et Minie the Moocher
PS : Remarquez, grâce au Hi De Ho Bloggeur, j'ai appris aussi que Charles PETERSON avait été guitariste bien avant de jouer du Semflex au 100ème à 5/6.
Ces photos sont extraites du sublime livre de Charles PETERSON : The Swing Era New York.