JaMeS BuRToN 1/2 – Les QueSTioNS
Jan 29th, 2007 | By
Professor
| Category:
BoP THe RoCK
Il est l'un des rares à avoir son "modèle signature" chez Fender .
C'est pas donné à n'importe qui!…
C'est l'homme de l'ombre par excellence, celui qui sait laisser la place (rare chez les guitaristes qui sont en général assez envahissant et souvent baveux), enfin, plus que les batteurs, ce qui n'est pas donné à tous le monde).
Il a un palmarès studio prestigieux.
Il a accompagné une foultitude de mastards. Dont le King en persone..
Et par dessus le marché, il est d'une extraordinaire inventivité.
Ca vaut bien un petit quizz ça, non ?


1 – James Burton fait sa première session sur :
a) "Peggy Sue" (Buddy Holly)
b) "Susie Q" (Dale Hawkins)
c) "Oh Suzanna" (Marc Taynor et ses Joyeux Cowboys)
2- Quel âge avait-il ?
a) 15 ans
b) 25 ans
c) 35 ans
3 – Avant d'être le grand "Telecariste" que l'on sait, James Burton jouait une autre guitare? C'était :
a) une Gretch cutaway,
b) une Gibson Les Paul Corvette double cutaway
c) une Mosrite triple Manche
4 – C'est en traversant les couloirs des studios d'Imperial Records que Ricky Nelson rencontre James Burton alors en pleine séance. Qui James Burton accompagnait-il ?
a) Bob Luman "Red Hot"
b) Rose Maddox ("My Little Baby")
c) Fats Domino ("My Heart Is In Your Hands")
5 – Dans lequel de ces groupes a-t-il occupé le poste de lead-guitar ?
a) Chocolate Watch Band
b) Strawberry Alarm Clock
c) Louisiana Hayrid
6 – Pour obtenir le son qui le caractérise, James Burton utilise deux cordes d'un autre instrument en lieu et place des traditionnelles Mi grave et La de la guitare. De quel instrument s'agit-il ?
a) Violon
b) Piano
c) Banjo
7 – Le jeu de Burton, côte bend et double stop, doit beaucoup à l'un des guitaristes ci-dessous. Lequel ?
a) T-Bone Walker
b) Chuck Berry
c) Les Paul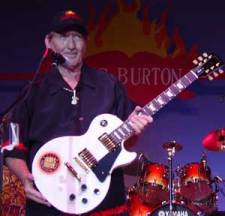 8 – Aussi bizarre que cela puisse paraître, James Burton a été très influencé par de nombreux bluesmen. Lesquels?
a) Lightnin' Hopkins
b) Muddy Waters
c) Elmore James
d) Hank Williams
e) Clarence "Gatemouth" Brown
e) Howlin' Wolf
f) Lefty Frizzell
g) Chet Atkins (il est vrai qu'il y a mieux comme blouzeux!)
9 – Outre le show de Ricky Nelson (Ozzie And Harriet TV), James Burton a participé à un show très célèbre aux USA : lequel ?
a) "Shindig"
b) "Ed Sullivan Show"
c) "Perry Como"
10 – En 1974 il "enregistre" "Little Sister". L'interprète : c'est Presley. De qui était le morceau ?
a) Leiber-Stroller
b) Pomus-Shuman
c) Lennon-McCartney
11 – Sur lequel de ces amplis n'a-t-il pas joué ?
a) Fender Vibrosonic
b) Gibson Les Paul
c) Fender Deluxe
12 – Il a enregistré deux albums sous son propre nom. Quels en étaient les titres ?
a) "Corn Pickin' and Slick Slidin"
b) "Kick Your Picks with James Burton"
c)"The Guitar Sounds of James Burton"
13 – Parmi ces stars, laquelle n'a t-il pas accompagnée ? 
a) Buffalo Springfield
b) Emmylou Harris
c) Randy Newman
d) George Jones
e) Graham Parson
f) Merle Haggard
g) Jerry Lee Lewis
h) Johnny Horton
i) Buck Owens
j) Robert Gordon
Les réponses ici-même dans quelques temps.
Professor BeeB HôPô