GeoRGe A. RoMeRo (La Nuit… en projection intégrale et une play list à vous réveiller les morkitus !)
Juil 18th, 2017 | By
Professor
| Category:
FiLMS et ViDéoS
,
GRaVeYaRD SToMP
,
PLay LiSZT (FoR Me)
George Andrew Romero
(4 février 1940 – 16 juillet 2017)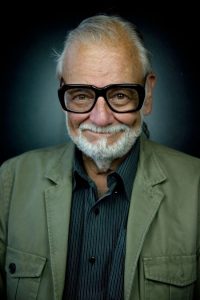 Une projection de "The Night Of The Living Dead" (vo sous titré français) et quelques morceaux que Romero aurait aimés ou inspirés, ça vous dit ?
Mais avant, un tout petit flash back de rien du tout !
1968. Cette année-là, alors que la guerre au Viet-Nam battait son plein, que la ségrégation raciale était encore archi-présente aux États-Unis d'Amérik, tourner un film en noir et blanc dont le héros est un noir qui se fera bouffer par des croquemitaines blancs, ça a un sens. Surtout si l'on songe qu'une partie du financement s'est jouée lors d'une partie d'échecs !
Et lors des premières projections en France, beaucoup n'y avait vu que du feu. Exemple : j'ai vu le film en 1970 au Centre Culturel Américain, boulevard Raspail, là où se trouve dorénavant la Fondation Cartier (pouah !). A la fin de la projection, ma petite amie d'alors s'est précipitée pour aller dégobiller aux vécés. Pire ! elle a même eu peur d'y aller seule ! Bref : nous n'avions pas encore décelé la part subliminale du film. Nous nous sommes contentés de nous en tenir au côté le plus démonstratif.
Pourtant ce film est un chef d'œuvre ! Et George Romero un maître. Il l'a écrit, produit, réalisé et monté ! Pas tout seul, mais presque. Et de nombreuses idées arguées dans la "La Nuit Des Morts-Vivants" sont sacrément présentes dans la thématique des musiques amplifiées, prouvant ainsi que le retentissement de l'œuvre ne se limite pas qu'au seul genre zombiliste.
Ouètch and See !
Professor BeeB HôPô



Enregistrer
Enregistrer