CoRBy YaTeS 1/2
Juin 28th, 2007 | By
Professor
| Category:
BoPPiN' THe BLuES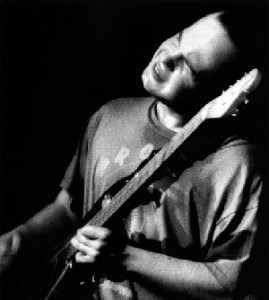 Pour le blouzeu moyen (moi par exemple) Yates, c'est trois opus. Dont deux se situent délibérément et allègrement dans le concept "guitare blues solos à rallonges et power-trio".
Le tout sous une voix post adolescente, pré-mature, pas finie de faire…Bref, tout ce que les punks aiment !!!
Sa mouvance ? A un carrefour très conceptuel du blues : T.S. McPhee (Groundhogs), Robin Trower, Jimi Hendrix, Jimmy Page, Buddy Guy, Franck Marino, S.R.V. !
Tout ça mélangé, ça fait un ensemble, assez musclé, pour ne pas dire… couillu. Très couillu. Mais couilluuuuu "ah ch'tedipa !". On dirait pas, hein, comme ça à première vue.
Il a l'air sympa. Et il l'est.
Mais dès qu'il prend sa Music Man, qu'il branche les Fender, on est dans une  vraie luxure. Une débauche totale.
Enthousiaste et viscérale. Comme celle dont Johnny Winter a su jeter et exalter les bases dans « The Progressive Blues Experiment ».
Solitaire, mais transcendé par ses influences, Yates leur voue un véritable culte. On est aux antipodes de l'attitude du fan moyen (moi par exemple) qui a pris une guitare pour refaire les plans d'Hubert Sumlin', de SRV, Bloomflield et autres Albert King, des mecsqui en ont. Lequel fan ne fait que recycler des gimmicks usés jusqu'à la corde, croyant qu'il est capable d'une tournerie en 12 mesures. Un autre exemple au hasard : moi !
Yates, lui, est entré dans la guitare et le blues comme on entre en religion.
C'est pas de la passion, c'est de la  dévotion.
C'est pas une guitare, c'est un encensoir !
C'est pas des amplis, c'est des autels.
On est presque dans la contemplation monacale. Cloîtrés…
C'est qu'il y croit dur comme fer. On pourrait presque parler d'incarnation tant il est dans la peau de ses héros. Que voulez-vous, il est totalement habité. Possédé.
Il est de notoriété publique, enfin presque, que son domaine de prédilection est la scène où il a prodigué, dans plus de 1500 messes, les évangiles selon Robert Johnson. A l'instar de John Mayall, il part fréquemment en croisade. Et alors ? Ben, on s'en doute : il a joué un peu partout aux States. Oregon, Pennsylvanie, Idaho, Caroline et même en France. Mais surtout en Californie puisque c'est là qu'il réside. Il a assuré pour les plus grands couillus du genre : John Lee Hooker, Tinsley Ellis, Indigenous, Robben Ford, Robin Trower, Cheap Thrick, etc.. Et avec les deux survivants du Band Of Gypsies. Un sacré pedigree.
A peine 18 ans, en 1998, et il connaît son Hendrix sur le bout du doigt… Ce qui lui  vaut de remporter le  Jimi Hendrix Voodoo Chile Award – catégorie moins de 18 ans – devant un Al Hendrix à la renverse. Lequel Al lui donne le trophée : un prototype ultra rare (remarquez, un prototype c'est déjà rare !) d'une Fender… Jimi Hendrix, on s'en doute.
Comme il n'est de bons musiciens que ceux qui savent écouter autre chose que le genre  musical pour lequel ils se sentent des prédispositions, il a eu deux révélations : Thelonious Monk et John Coltrane. Plus surprenant : il s'est mis à étudier les plans de John Scofield, qui n'est pas connu pour posséder un jeu et un style des plus faciles. Mais, bon : le MC5 avait bien Sun Râ et Buddy Guy s'est évertué à faire sonner sa guitare comme un saxophone. Alors…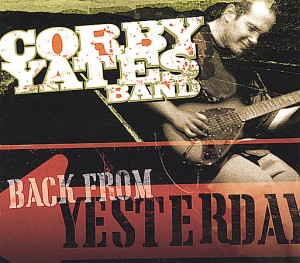 Pour la guitare, les riffs et les chorus, il y va pas avec le do (private joke : à do, y'a pas d'esse, c'est exprès !) de la cuillère. C'est, disons, surchauffé, survitaminé, souvent surplombé. Couillu, kouââ… La fougue de la jeunesse en est la cause. Ça donne parfois l' impression d'une surimpression vertigineuse de riffs en penta majeure et/ou mineure, romantique et impétueuse. Psycho active blues-rock…
Derrière, ça pulse ferme, ça pilonne dur et ça pousse velu. On est pas dans le génie, c'est pas le but. On est dans le rendement. Ca usine. C'est carré. Stakhanoviste. Grave couillu !
C'est papa et tonton qui officient. Le dab à la basse, le tonton, en rupture de banc, aux baguettes. C'est rentre dedans, obsessionnel, ça bouge pas d'un pouce ni d'un quart de poil. Ca tient le choc. C'est… couillu.
Jamais le tonton ne s'éloigne du dabe qui ne se lasse pas de faire tout ce qui en son pouvoir pour laisser son gamin partir dans une galaxie en majeures relatives.
Mais c'est le rejeton qui pilote le groupe et qui montre le cap.
Un peu comme les Jam dont les rênes pécuniaires étaient tenus par le père de Paul Weller. On reste en famille et pas question d'en sortir comme ça.
Niveau sonore : Yates joue fort et il joue vite. Couillu ! Pas virtuose pour rien. Psycho-activ rock.
Bien sûr, impossible d'échapper à la citation. Il y en a un sacré paquet (!). On sent aussi une influence  très voilée : Jeff Beck. Impossible non plus d'échapper aussi aux clichés propres au genre. Qui possède tout de même un sacré paquet de limites. C'est pour ça qu'on l'aime d'ailleurs.
Ce qui serait intéressant, ce serait d'entendre Corby Yates soutenu pas une section de cuivre, lui qui penche de plus en plus vers un minimalisme inévitable à tout blouzman. C'est que maintenant, sa perception des choses l'oriente vers le blues en Dobro, National et autres items du blues solitaire. Repli indispensable et obligé en matière blouzoïde, lorsque l'on veut réellement être totalement imprégné et tenter d'atteindre le Saint Graal : LA Note Bleue, LA NOTE BLUES.
Dès lors, nouvelles (?) influences en psycho active blues : R.L. Burnside, Robert Johnson, Son House, Charley Patton et Fred McDowell. …. Les bons apôtres !
Couillu, je vous dis.
Ouèche !
Professor BeeB HôPô

Les questions et les réponses
1 – Your ten favourite guitar solos ? / (Vos dix solos de guitare préférés ?)
1. "Machine Gun" – Jimi Hendrix
2. "Cherry Red" – The Groundhogs
3. "Texas Flood" (Live at the El Mocambo) – Stevie Ray Vaughan)
4. "Electric Reflections Of War" – Frank Marino
5. "I Smell a Rat" – Buddy Guy
6. "White Summer" – Jimmy Page
7. "Scuttle Buttin" – Stevie Ray Vaughan
8. "Be Careful With a Fool" – Johnny Winter
9. "Thru The Milky Way" – Frank Marino
10. "Electric Ladyland" (solo instrumental) – Jimi Hendrix.
2 – Most hated ten guitar solos / (Les dix solos de guitare que vous détestez ?)
I can't hate something like that!

3- Favourites musical piece
"Split part 1,2,3,4" by the Groundhogs.
4) Sound or noise you like best / (Le son, le bruit que vous aimez ?)
Oozing thick guitar tone

5 – Sound or noise you hate the most / (Le son, le bruit que vous détestez ?)
T.V. commercials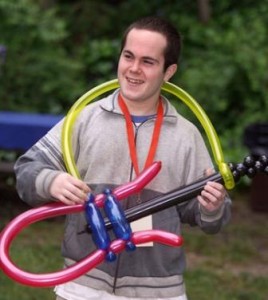 6 – Your first equipment? / Votre premier matériel ?
My first equipment was a spanish classical guitar.
7 -Your equipment these days / (Votre matériel actuel ?)
Ernie Ball Sillouette Specials, / old tube amps,overdrive and wah-wah pedals<
8 – Your first guitar  / (Votre première guitare ?)
My first electric guitar was a Sears Silvertone that had fuzz and echo and flanger built into the guitar. It is probably the weirdest guitar I've ever played.

9 – Guitars you own now/ (- Vos guitares actuelles ?)
Ernie Ball Music Man Sillouette Specials and a National Steel Dobro
10 – Favorite cussword / (Votre juron, gros mot ou blasphème favori ?)
Tits
11 – Best and worst memory as a musician:
(Vos souvenirs de musicien, le meilleur et/ou  le pire ?)
Best: All my experience as a musician have been good.
Worst : ——
12 – Man or/and woman to illustrate a bank note: / (Homme ou femme pour illustrer un nouveau billet de banque ?)
—–
13 – Job you would have hate doin' the most/ (Le métier que vous n'auriez pas aimé faire ?)
Proctologist
14 – Plant tree or/and animal you would like to be re incarnated in / (La plante, l'arbre ou l'animal dans lequel vous aimeriez être réincarné ?)
I would be reincarnated as a shark
15 – If God exists what would you like to hear him say to you when you're dead / (Si Dieu existe, qu'aimeriez-vous, après votre mort, l'entendre vous dire ?)
Let's shoot hoops
16 – Your musical projects / (Vos projets ?)
Power Trio and Solo Acoustic blues